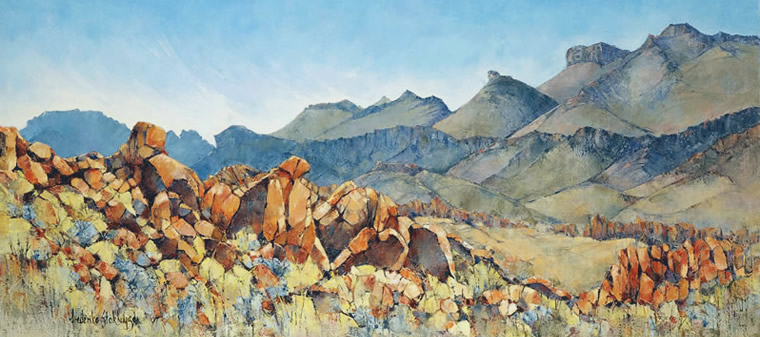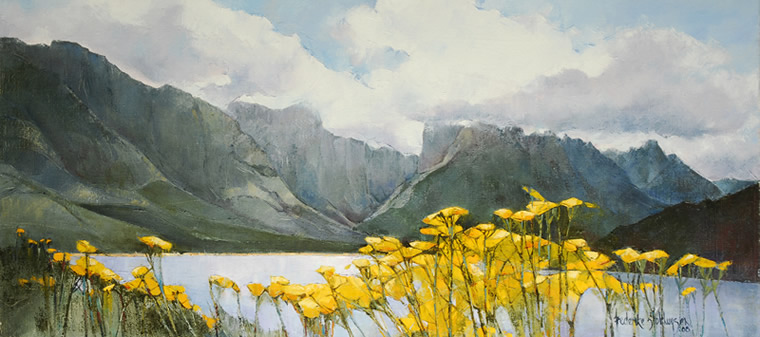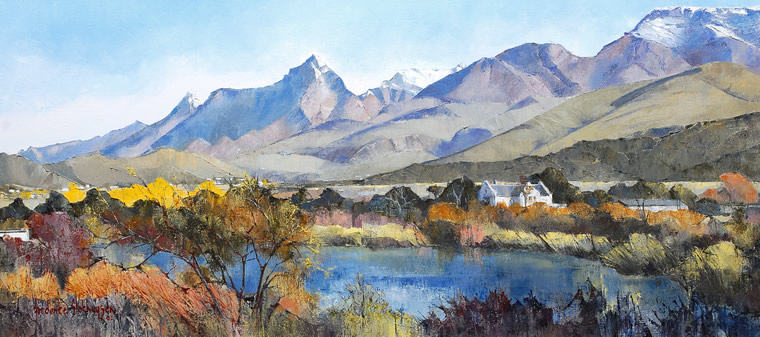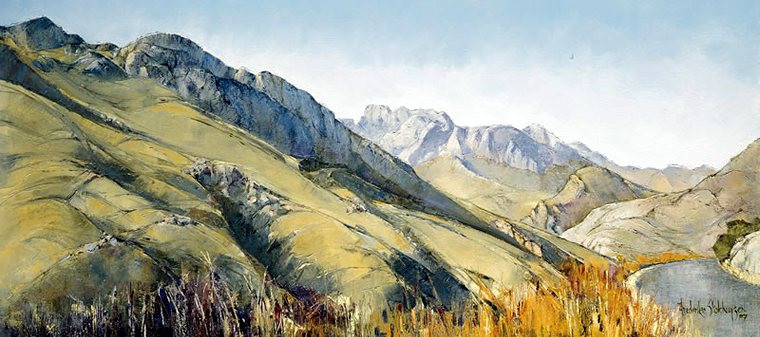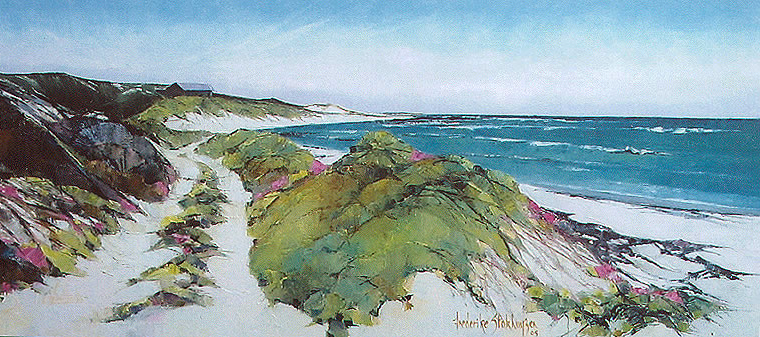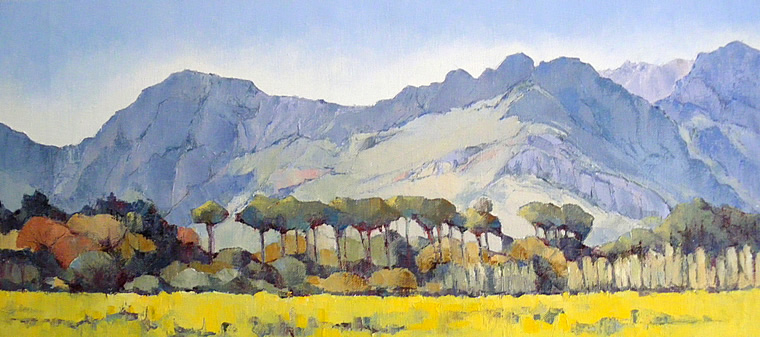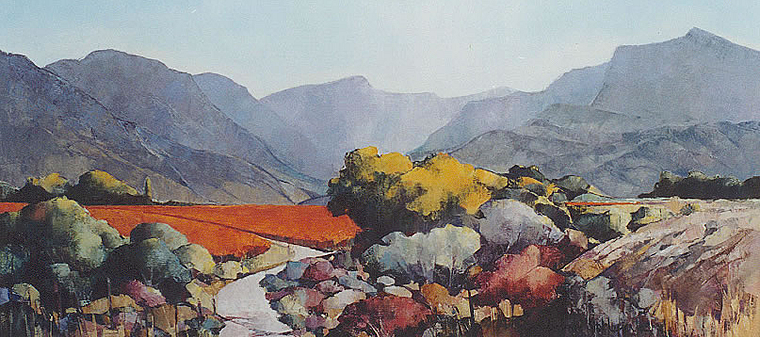 TESTIMONIALS
Marie Stinnes Review: Frederike Stokhuyzen at the Cape Gallery (March 2015)
The collection of artworks currently on exhibition at the small, snug gallery in the heart of Cape Town were inspired by a painting trip that artist Frederike Stokhuyzen took last year to the Kgalagadi and Namibia. The trip resulted in some magnificent paintings of the famous red dunes at Sossusvlei, as well as wildlife scenes depicting springbok, buffalo and gemsbok amongst the desert and grasslands.
Known throughout SA and abroad for her extraordinarily atmospheric wildlife and landscape paintings, Stokhuyzen, using her typical palette knife technique, captures the beauty of what she sees with an exceptional ability to highlight the colours, shapes and lines found in nature. Her paintings are astonishing interpretations, skillfully extracting the patterns that encompass the essence of the scene in front of her. The result is a truly fantastic visual feast of scintillating colours and symmetrical, recurring natural patterns, which radiate loudly with life, joy and the artist's apparent love for the natural world.
The exhibition includes Stokhuyzen's original watercolour drawings, which are fascinating to relate to her impressionist final artworks, painted in oil on canvas. If the watercolour sketches can be said to be a descriptive summary of what Stokhuyzen sees before her, the oil paintings could be described as beautiful poems that are born out of their inspiration.
A highlight of the exhibition, Damaraland Mountains, Namibia, is a perfect example of Stokhuysen's ability to capture natural patterns, as if they visually mirror the same intrinsic rhythm, and her magnificent skill in identifying repetitive form, creating an echo of natural shapes and lines, starting within the tree branches and extending to the mountains in the background.
Stokhuyzen's paintings are a remarkable and delightful ode to the artist's deep love of African nature.
David Zetler: Owner of Hout Street Gallery, Paarl (Est 1975)
I have known and admired Frederike Stokhuyzen for fifteen years, both as a trusted friend and as a talented artist.
Her style, technique and great love of mountains and natural beauty have firmly placed her as one of the Western Cape's foremost contemporary landscape artists.
As one of the few South African painters who use only the palette knife to execute their oils, her finished works display a particularly smooth texture. Some of her paintings are monumental in size which gives the works a certain immediacy and her use of secondary and tertiary pigments provide wonderful grey tints.
Frederike's excellent eye for composition captures the magnificence of her beloved mountains in her paintings - from her Cederberg series, Seweweekspoort, Table Mountain and the Jonkershoek mountains to the Worcester area and Klein Constantia with its attendant vineyards.
In "Swartberg Pass", which is a large work, she employs tertiary colours to obtain subtle green tints, and then masses rock formations as a counter-weight to the sun-drenched mountain view. Works such as these impart a certain gravitas to her vision of the landscape.
Frederike has also extended her range by painting wild animals, which lend themselves to her particular technique.
She shows pronounced drawing skills in her paintings of wind-blown trees. The interstices of the branches have an abstract geometric quality which draws attention to the graphic feel of her paintings.
I am sure you will take as much pleasure in viewing her art in this book as I have over the years.
The Herald - Port Elizabeth (4 November 2011)
Stokhuyzen's joyous use of paint exhilarating
Frederike Stokhuyzen Exhibition (Ron Belling Gallery)
Reviewed by Rosemary Browne
Frederike Stokhuyzen, a well-known South African artist who lived and worked in Port Elizabeth for 20 years before relocating to Cape Town for the next 22, has returned to exhibit 66 paintings here, many of which are her latest oils and watercolours.
This latest exhibition is fresh, stunning and beautifully hung by Robyn Sharwood, and facilitated with excellent lighting in the Belling Gallery.
There are large dynamic oil paintings, hung next to softer coloured, small water colour sketches of the same subject. The juxtaposition makes viewing most interesting.
One has the privilege of seeing the artist's original sketches. These are later reinvented or reinterpreted, and are translated into major oil paintings. The delicately finished watercolours constitute the origins of her large oil paintings.
With Stokhuyzen, these sketches are in fact finished art works in themselves, and are all beautifully presented in silver coloured frames.
The watercolour sketches are done in situ, always when she stops to capture some exciting view, quickly seen, and then drawn and painted. Watercolours are always taken with her.
These small watercolour sketches also have softly drawn lines in pen and ink to differentiate and delineate form. They are a unique calligraphy, which Stokhuyzen uses to define her watercolour subjects to good effect.
Her colours are dynamic and exhilarating. Her oil paint work is sensuous, with great textures as well. Her realism and style are uniquely her own.
Stokhuyzen's palette is dramatic, with strong oranges, bright blues, lovely greens, earthly colours, set off with dark contrasting shapes in the landscape. She uses a palette knife to spread this joyous use of paint, making form and shapes out of these colours, into realistic recognisable landscapes.
Everything in nature inspires her with the result being lively, articulate images in paint. She always finds something special to capture in paint, and makes time stand still.
After she and her husband John recently returned from a visit to heritage site Mapungubwe, Stokhuyzen painted baobabs into painterly woody gesticulating expressions, as well as lovely rocky outcrops with trees.
She will be in the gallery every day to meet and greet visitors and discuss art works with them until Tuesday.